Our latest update allows you to gain granular insights into your firm's data with our new custom reporting functionality!
If you're a Pro or Enterprise customer, next time you go to the Reporting tab you'll have the option to generate a custom report alongside the usual reporting tools.
There are a lot of different data points required under SMCR. With our custom reporting feature, you can combine different elements of these data points to generate a view of the SMCR status of your business in whatever way works best for you.
There's a lot you can do within this new functionality, so let's take a look at how it works:
To make the process of generating a custom report as straightforward as possible, we've split it into three tabs:
"Report Data"
This is the first tab you'll see when you create a custom report. Within this tab you're able to determine the types of data that will be included in your report. We split this data into two types:
Dataset: the overarching category(s) of data included within the report.
Fields: the specific, individual pieces of data that fit within that dataset.
For example, if your report includes a section about staff information, it might look like this:
Dataset: Staff Information
Fields: Employee number, Employment status, Job title, Role Description and Responsibilities
The great thing about custom reporting is that you can combine different datasets and fields to create detailed, granular reports that cover multiple strands of information about your firm.
If you are creating a report with lots of individual data fields, you can use the arrows next to the headings of each dataset to hide the individual fields to make things more manageable.
"Configure Columns"
When you've finished selecting your datasets and fields, you can use the next tab to configure the order in which they appear.
Using the "card" interface (pictured below) you can drag and drop the different fields within the report to dictate the order in which they'll appear.

"Generate"
Once you're happy with the order of the fields in your report, you can generate it! The last thing you have to determine is who your report applies to within your firm:
All People: the report will apply to every person logged in your Corterum instance.
Selected People: this option allows you to generate a report based on individual entities and/or groups of entities.
Once you've made your selection, you can download the report, which will look something like this: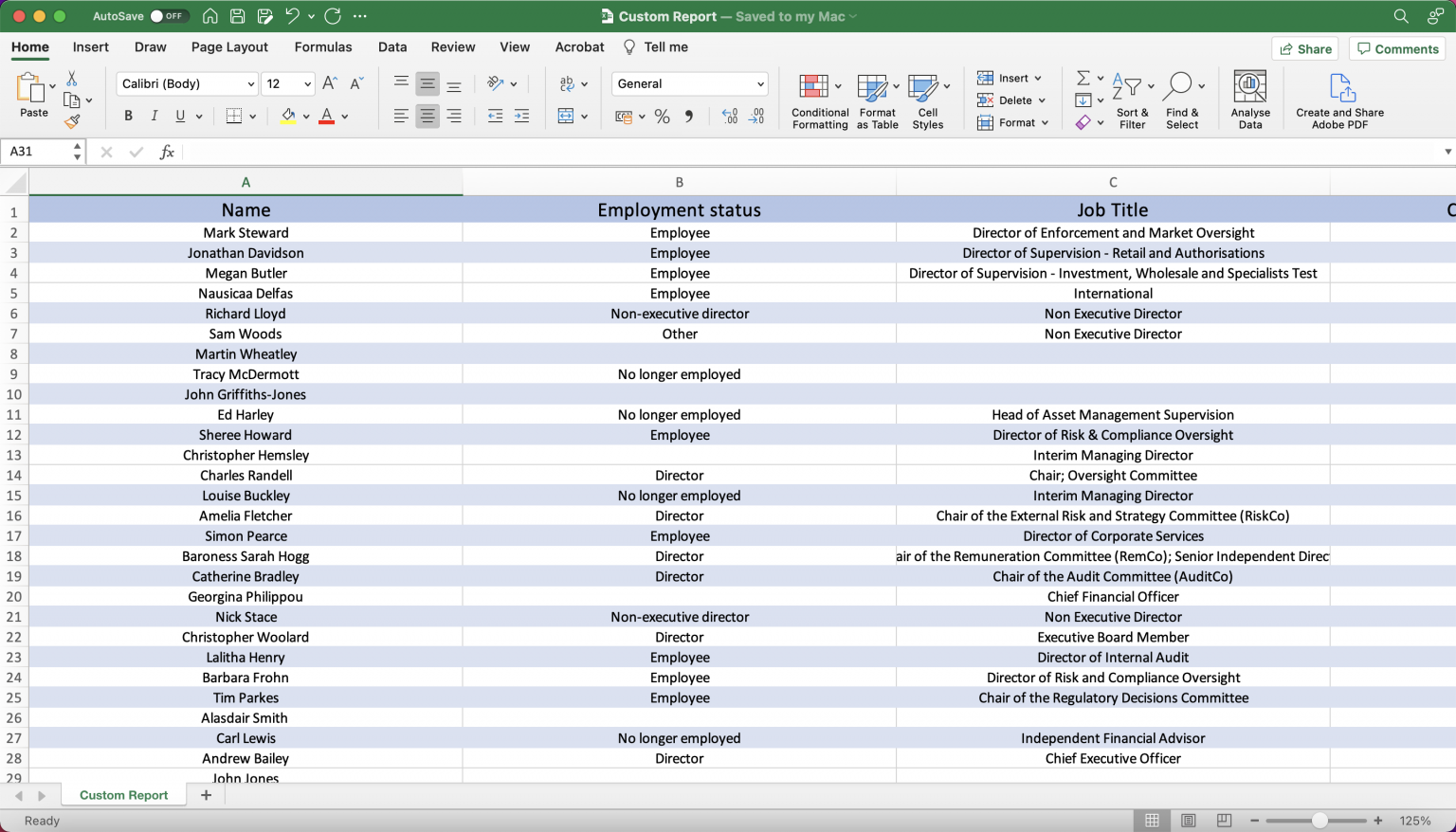 We're constantly working to improve the Corterum platform, and we hope you find this new feature useful. If you don't already use Corterum to manage your SMCR compliance, why not get in touch to see how we can help?