This month our developers have been hard at work creating one of the most substantial new features we've ever released – messenger! We've also added new functionality allowing you to set up an appointed representative. Read on to find out more.
Messenger
Next time you log into Corterum, you'll see a new option on your Workbench navigation bar – "My Messages." This option is visible to both administrators and users.
Messenger for administrators
As an administrator you'll also have a new Messenger option within the Administration section. Here you will be to create and assign messages using the following options:
Set a title for the message.
Edit and format the body of the message using a "what you see is what you get" editor.
Define whether or not the message is high priority.
Select the group(s) that the message will be sent to.
Once you've sent a message, you can check back at any time to see a full list of everyone the message was sent to and check whether they've read the message or not: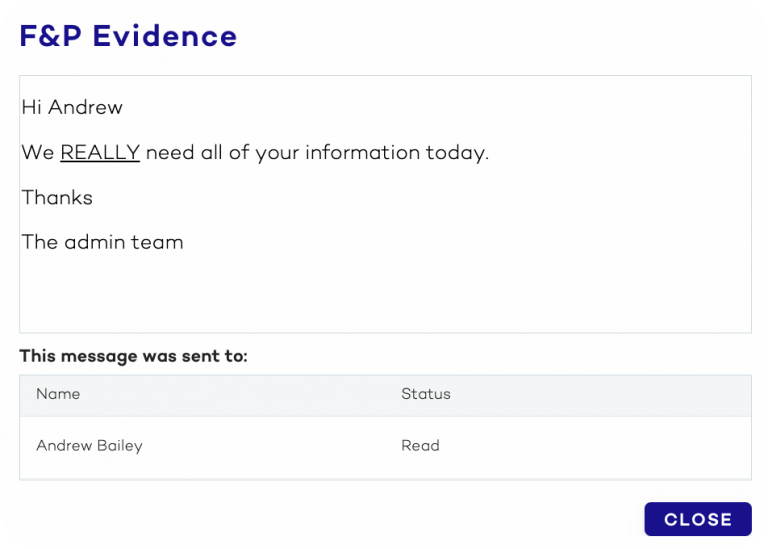 In a future update we'll also be adding the ability for administrators to:
Add a message when creating rules.
Schedule a message using our calendar tool.
Messenger for users
As a user, if you have any unread messages you'll see a notification icon on the top right of your screen. You can click on the notification icon to access your messages, or select "My Messages" from your workbench. Within this menu, you can:
View all of the messages you've been sent.
Filter messages by read/unread status.
Search messages with keywords.
Mark individual or multiple messages as read or unread.
Delete individual or multiple messages.
Appointed representatives
Corterum now allows admin users to set up and track individuals within Appointed Representatives. 


Next time you view someone's staff information, you'll see that you have access to a new toggleable option to set them as an Appointed Respresentative.
Although you don't have to set up an Appointed Respresentative as a User within Corterum, each one that you create will contribute to the total number of users. Broadly, Corterum charges based on the number of individuals about whom information is actively being stored, so you may incur additional charges based on the number of Appointed Representatives you have stored.