This week, we've added a small but significant change to entities within Corterum – the ability to add profile pictures.
With this update, you'll be able to recognise and find the Business or Person Entity you're looking for quickly and easily!
Let's take a look at how this works:
Adding and viewing a profile picture
We've made the process of adding a profile picture to an entity as seamless as possible. When you click on an entity within the Administration panel, you'll see that you now have the option select a profile picture for that entity.
Once you've added a profile picture to an entity, go to the Entity Database within the Workbench and click on that entity. You should see that their information has been updated with their profile picture: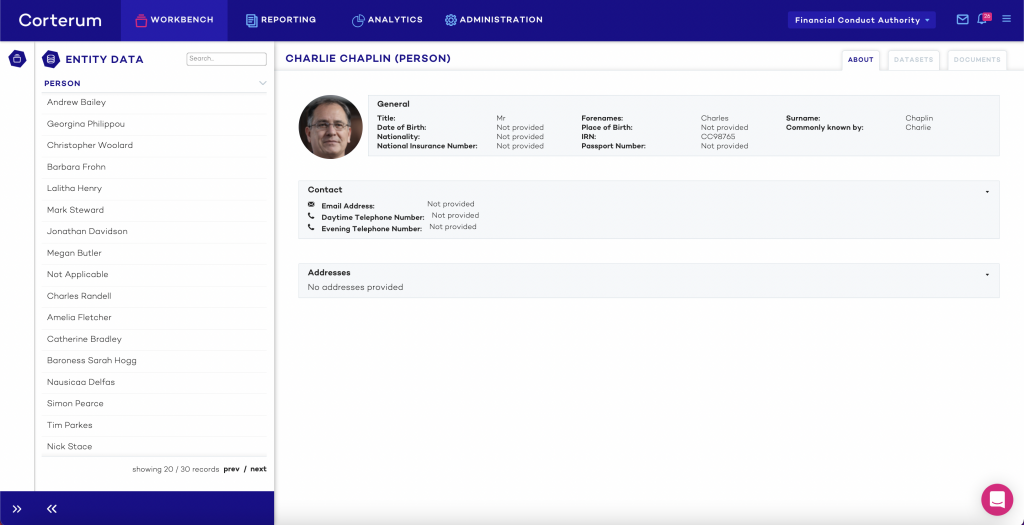 Additional information
Although adding a profile picture to an entity helps it to be recognisable, it's not a requirement. If you don't add a profile picture to an entity, you'll see the entity's initial's displayed in its place.
The process for adding a profile picture is the same for Business and Person entities – so you can add company logos as well as personal profile pictures.
We're constantly working to make Corterum a better, more user friendly platform. If you'd to learn how Corterum can help improve your SM&CR management and compliance, why not drop us a line?