Our first update of 2022 is a big one! Read on to find out more about the improvements we've made to attestations as well as our brand new dashboard.
Attestations for groups
An important part of maintaining and evidencing compliance is asking for and recording your employees' attestations – their assertions that, for example, they have received and understood any SM&CR training. Managing attestations is already simple and straightforward- but now we've made them even better!
Corterum now lets you assign an attestation to a group of users within your firm, significantly streamlining the process of assigning an attestation to multiple people and saving your administration staff valuable time and effort.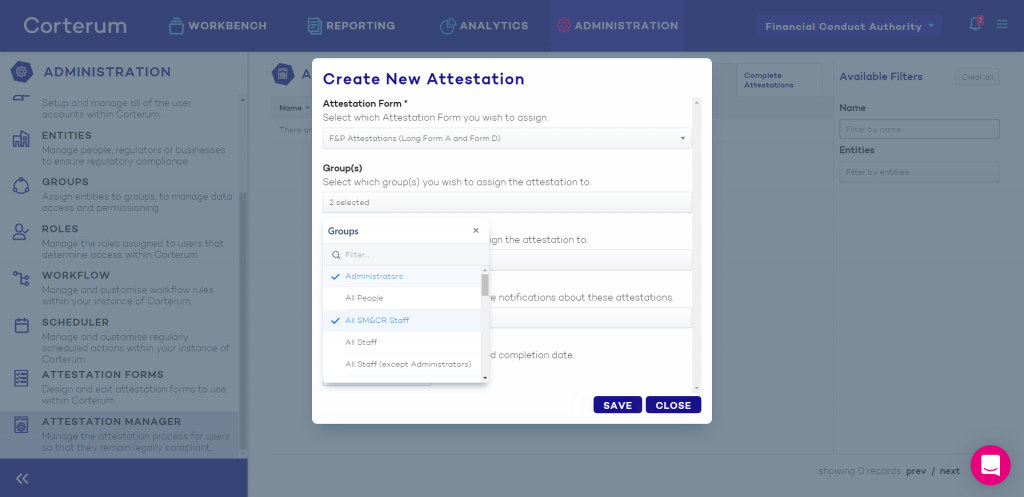 The new setting for assigning an attestation to a group can be found in the Attestation Manager section of the Administration tab. Here you can select one or more groups of users to assign an attestation to. For example, you may want to assign an attestation to all administration staff as well as all of your SM&CR staff members at once. With our new group attestations functionality, you can do this in seconds.
Dashboard
From now on, when you log in to Corterum, you'll see your own personalised dashboard. Here you can see information about your SM&CR classification; the tasks and attestations you've been assigned; your Fitness and Propriety information and more.
The dashboard is personalised to every staff member within your organisation, so each user will only see the tasks, attestations and information that's relevant to them.
The next time you log in to Corterum, things might look a bit different. Don't worry, though! The dashboard takes just a few seconds to set up.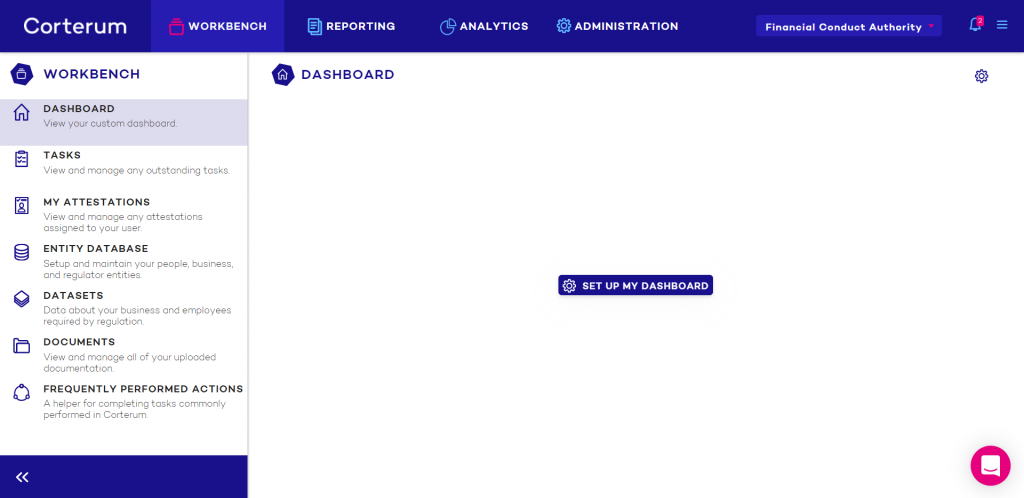 To get started click on the button labelled "SET UP MY DASHBOARD."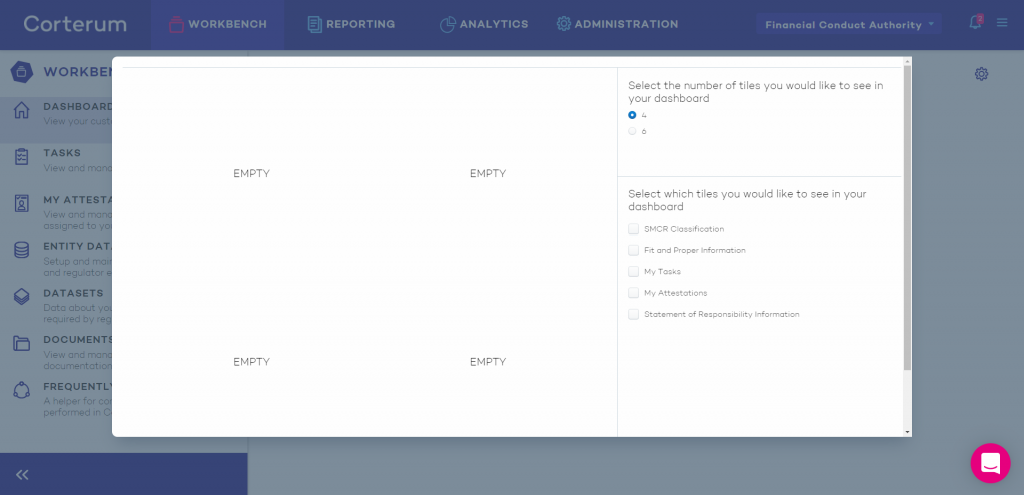 You'll then see a configuration menu pop up. Here you can select the number of tiles you would like to see on your dashboard and pick which tiles you would like to see from the following options:
SM&CR classification
Fit and Proper Information
Your tasks
Your attestations
Statement of Responsibility information
Once you've chosen your tiles, they'll appear in your dashboard. To edit your tiles, click the blue cog ⚙ icon in the top right-hand corner.
This is just the first set of features we'll be rolling out for the dashboard! As we add new functionality to Corterum, we'll add corresponding tiles to the dashboard so you can keep up to speed with your firm's SM&CR compliance at a glance.